 For a great smoking experience,
Wooden Smoking Accessories
, offered by us, are the trendiest products. We offer Wooden Ashtray and Wooden Cigarette Pipes. The royal appeal of Wooden Smoking Accessories, that we offer, is highly acclaimed by our esteemed clients. We bring forth rich collection of Wooden Smoking Accessories in many sizes,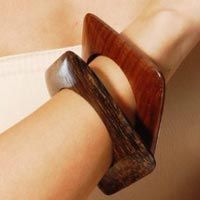 We are a preferred name for availing huge assortment of Wooden Bangles. We offer various styles and patterns in our Wooden Bangles. These Wooden Bangles, offered by us, are extremely stylish and unique. Wooden Bangles, available with us, are suitable to be worn with any kind of attire, whether its casual, or ethnic.